Name: Henley Spiers
Picture title: Constellation of Eagle Rays
Category: Black & white
Nationality: Half British, half French, living in the UK
Occupation: Full-time photographer
Technical information
Camera: Nikon D850
Lens: Nikon 28-70mm
EXIF: ISO 800, f6.3, 1/60 sec at 28mm
Accessories: Nauticam underwater housing, Nauticam W.A.C.P.-1, Inon Z330 strobes
WINNER CATEGORY BLACK & WHITE
Henley Spiers | Constellation of Eagle Rays
Name: Henley Spiers
Picture title: Constellation of Eagle Rays
Category: Black & white
Nationality: Half British, half French, living in the UK
Occupation: Full-time photographer
Technical information
Camera: Nikon D850
Lens: Nikon 28-70mm
EXIF: ISO 800, f6.3, 1/60 sec at 28mm
Accessories: Nauticam underwater housing, Nauticam W.A.C.P.-1, Inon Z330 strobes
Henley

 says:
A school of uniquely patterned spotted eagle rays (Aetobatus narinari) passes beneath me on an unforgettable dive in the Maldives. Like most divers, I have always found these rays to be especially spellbinding, but also highly elusive!
Towards the end of the dive the school of rays passed me underneath and this was one of those rare moments of huge admiration and immense inspiration. I could visualise the image I wanted and, whilst the rays glided effortlessly, I swam my heart out trying to keep up and unlock the desired camera angle. The rays continued forward and deeper, giving me just a few moments to capture this frame. Scientists have just recently confirmed that the stain pattern of each ray is a unique identifier, the equivalent of a human fingerprint.
I love how black and white reinforces that uniqueness, keenly displaying the distinctive stain pattern, as well as the subtle shading differences between each individual.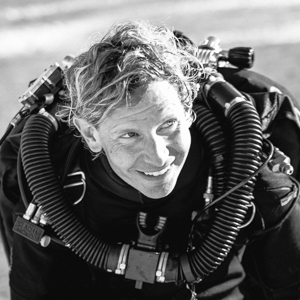 About Henley:
UK
Henley Spiers, half British and half French, is an award-winning photographer, writer and trip leader. Starting his professional career in diving as an instructor, he later fell in love with underwater imagery and made the transition to full-time photographer. His photography has been featured in the international press, including The Sunday Times and Der Spiegel, as well as multiple magazine covers. In 2019, he co-authored Black is the New Blue Vol. II, showcasing blackwater diving.
His latest book, the Guide to Cebu, was co-written with his wife and frequent collaborator, Jade, and is awaiting release. Sought after as a teacher and guide, Henley also leads photographic trips to see incredible underwater wildlife encounters around the globe.
Website: www.henleyspiers.com