Name: Levi Fitze
Picture title: Capercaillie
Category: Yought 10-17 years
Nationality: Switzerland
Technical information
Camera: Sony a7rIV 
Lens: Sony alpha 200-600mm f/5.6-6.3 G OSS 
EXIF: ISO 320, f6.3, 1/800 sec
HIGHLY COMMENDED CATEGORY YOUGHT 10-17 YEARS
Levi Fitze | Capercaillie
Name: Levi Fitze
Picture title: Capercaillie
Category: Yought 10-17 years
Nationality: Switzerland
Technical information
Camera: Sony a7rIV 
Lens: Sony alpha 200-600mm f/5.6-6.3 G OSS 
EXIF: ISO 320, f6.3, 1/800 sec
Levi says:
It was always a dream of mine to observe a lekking Capercaillie in Switzerland. In the last spring I had finally the chance to observe this beatiful bird thanks to a friend who gave me the location.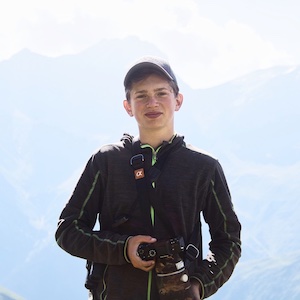 About Levi:
Switzerland
I'm Levi Fitze from Switzerland. My passion for nature, especially for birds started when I was ten years old. On an excursion with a friend we observed honey buzzards on their migration. Since this moment my fascination for birds is growing every day. After some years I started with photography. For around two years now I spend as much time as possible out with my camera searching for new subjects.
I started an apprenticeship in a photo studio this summer. But my work there isn't focused on wildlife photography, so I try to go out as often as possible in the weekends.
Website: www.levifitze.ch