NPOTY 2024 is open from December 4th, 2023 to April 7th, 2024
Entrance fee of € 31,-.
Upload maximum 20 Images in all categories from C1 to C11
Entrance fee of €16,-.
Upload max 12 photos in Category C13, for the Fred Hazelhoff Portfolio Award
Entrance fee of €44,00.
Upload max 20 Images in Categories C1 to C11 +  Upload max 12 images to Category C13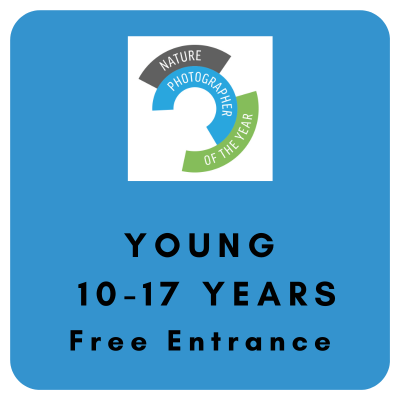 No entrance fee.
Max 5 images can be uploaded to Category C12. Young photographers between 10-17 years can enter this contest
Nature Photographer Of The Year 2024 is open and closes April 7th, 2024
For the ninth time in a row, we'd like to welcome you to join the Nature Photographer of the Year competition, powered by Nature Talks Photo Festival in the Netherlands. We kindly invite all professional and non-professional photographers, of all ages, from all over the world, to join our contest again this year. Send in your best pictures from this year, last year or years back. We believe that we can show the beauty of nature worldwide by sharing the most amazing images you all make. If we learn to love nature, we'll also protect her.
When you enter this nature photography contest you have the chance to become the Nature Photographer of the Year 2024. This year the total prize will amount to €25,000, of which many large cash prizes. For example the overall winner gets € 3.000,- and category winners € 500,-
But that's not all, you'll also support nature conservation. We have founded the Nature Talks Foundation (Stichting Nature Talks) to work with and support nature conservation organizations like Photographer Against Wildlife Crime. So join today, show us your stunning images, become the Nature Photographer of the Year 2024 and also help us to take care of nature.
See the winners of 2023 here.
NPOTY congratulates all the winners of the 2023 edition. We received  21,474 fantastic pictures from 96 countries. Wow!