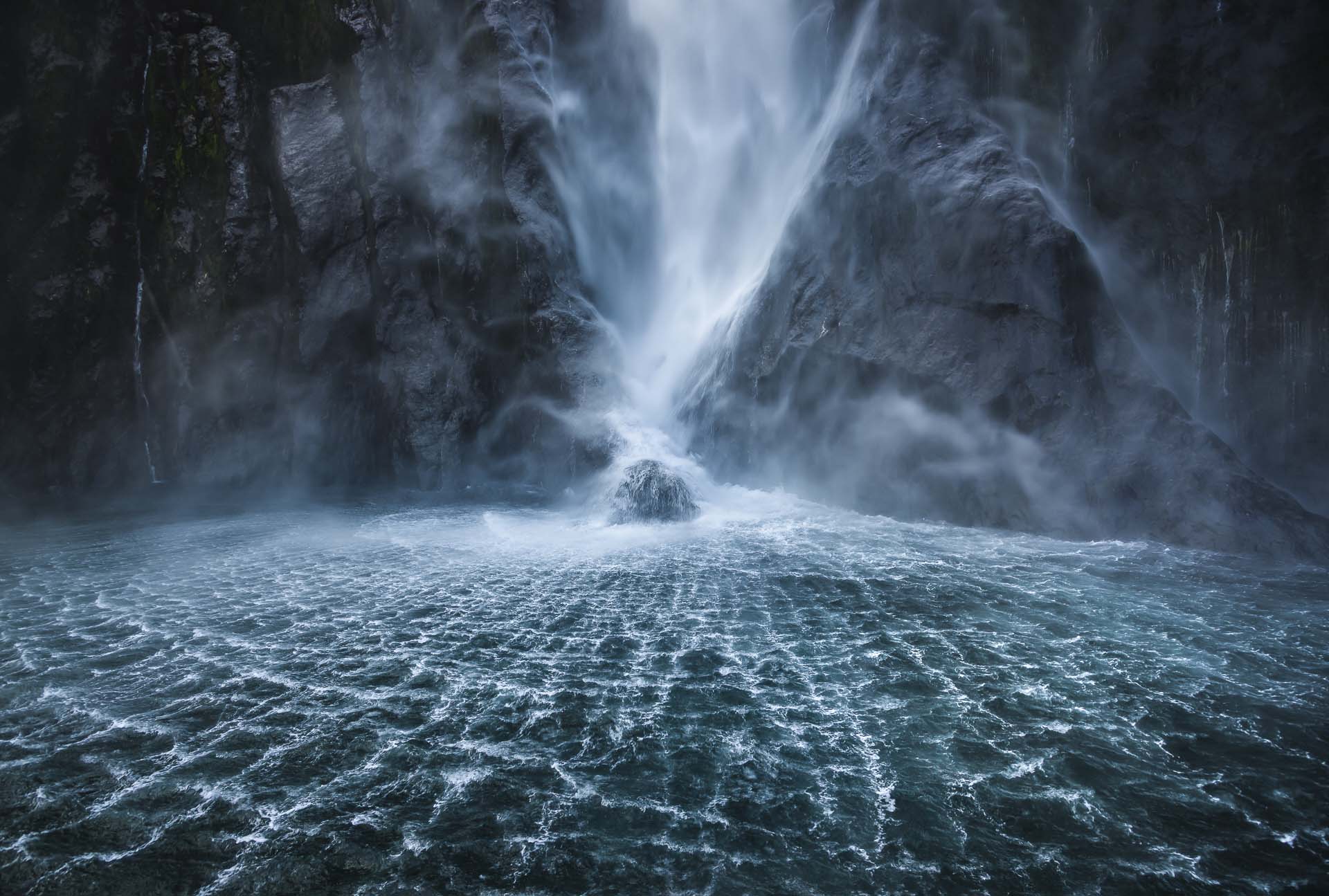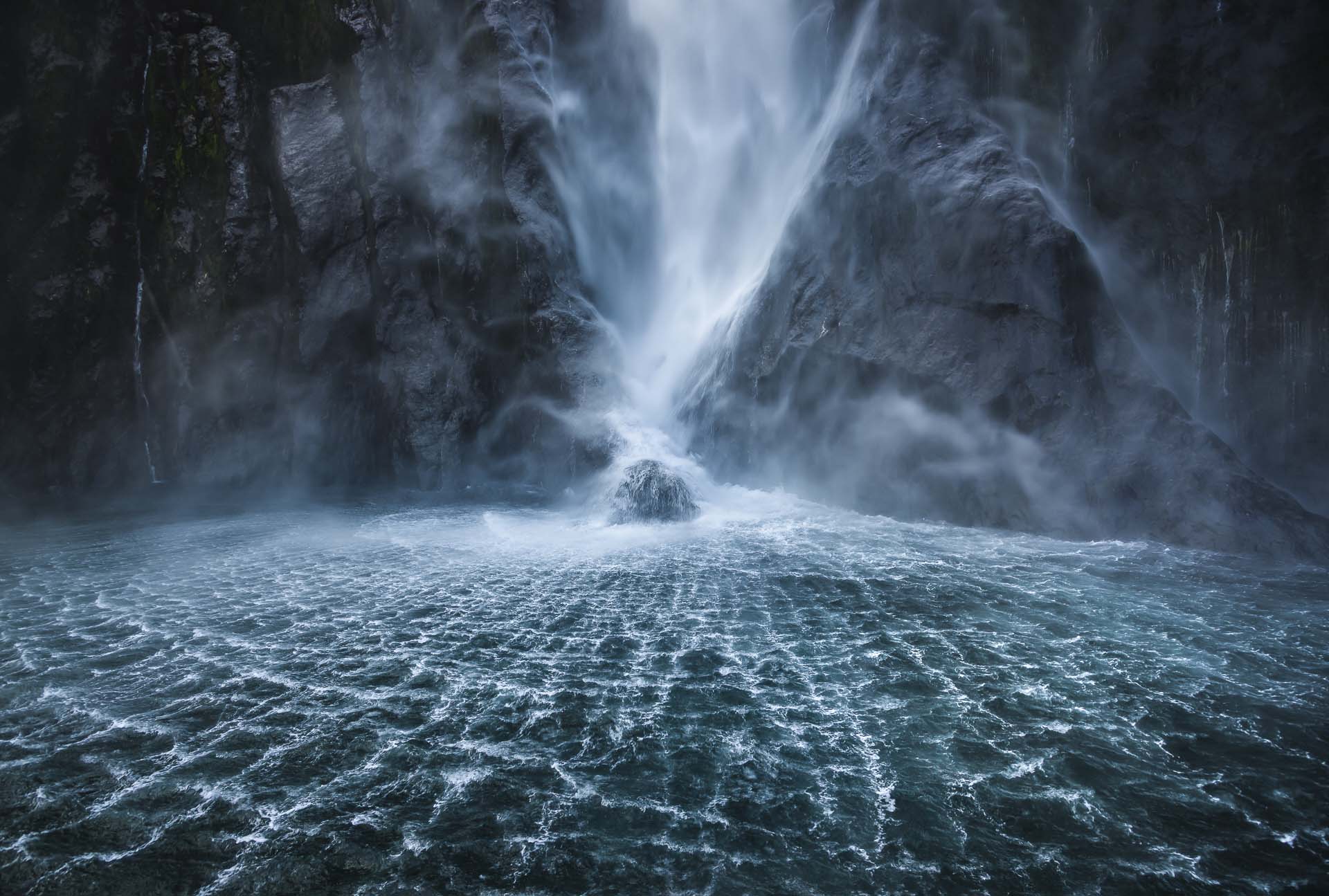 Name: Joshua Cripps
Picture title: Electric
Category: Landscapes
Nationality: USA
Occupation: Full-time photographer
Technical information
Camera: Nikon D810
Lens: Nikkor 24-120mm f/4
EXIF: ISO 250, f/8, 1/60 sec at 24mm
RUNNER-UP CATEGORY LANDSCAPES
Joshua Cripps | Electric
Name: Joshua Cripps
Picture title: Electric 
Category: Landscapes
Nationality: USA
Occupation: Full-time photographer
Technical information
Camera: Nikon D810
Lens: Nikkor 24-120mm f/4
EXIF: ISO 250, f/8, 1/60 sec at 24mm
Joshua

says:
Stirling Falls, New Zealand is a marvelous sight in a marvelous country. Located in Milford Sound, it's a waterfall that plummets 500 feet to land directly on the ocean's surface. When the conditions are just right, the water falling from the sky impacts the rocks at the base off the cliff and ricochets outward, creating a marvelous display of patterns and textures. The only way to reach the falls is by boat, and that creates a number of significant challenges for photography.
The first challenge is that you have a very limited amount of time to shoot. Due to the cruise schedule in Milford Sound boats stay at the falls for only 3-5 minutes. This means you have to get your camera completely set up and be totally ready to shoot when the falls comes into view, which means taking test exposures and getting the settings perfect BEFORE you arrive at the falls. How to know what settings are the right ones? Simple: trial and error.
I visited Stirling Falls by boat a number of times before I figured out the right combination of settings that would allow for movement in the falling water, while maintaining detail in the patterns on the ocean. Also, depending on the wind and water when you visit, you may not see any patterns at all. 
The second main challenge is that you have to shoot from a moving boat. You can't use a tripod to do a long exposure or perfect your composition. You have to act fast, shoot handheld using VR/IS, and shoot a lot of frames. Hopefully one will come out great.
The final challenge is dealing with spray from the waterfall. Every few frames you have to wipe the front of your lens or your image will be a smeary mess. After visiting the falls numerous times over a six year period, everything came together for me on a recent visit and I was able to create this image.
Joshua naam:
USA
Joshua Cripps started making remarkable photos while he was still in the womb. His first significant image, titled Sonogram, was praised for its graininess, blurry details, and gritty black and white mood. Earning two thumbs up from his parents, this photo only hinted at things to come. Since then Josh has won countless awards and accolades, including more than one "Certificate of Participation," dozens of "Good Sportsmanship" plaques, and the coveted "Busy Bookworm" award from his second grade teacher.
Currently Josh spends over 700 days every year in the field seeking out the finest landscapes on earth. He has a mighty beard and sings in a rich baritone. Hiking at least 45 miles to capture every photo, Josh ensures that each image he crafts represents the very heart of the wilderness.
Website: www.joshuacripps.com