Name: Levi Fitze
Picture title: Morning lek
Category: Yought 10-17 years
Nationality: Switzerland
Technical information
Camera: Sony a7rIV 
Lens: Sony alpha GM 16-35mm f/2.8 
EXIF: ISO 320, f22, 1/100sec
Accessories: Tripod from Swarovski, iPhone SE with Imaging Edge Mobile App
RUNNER-UP CATEGORY YOUGHT 10-17 YEARS
Levi Fitze | Morning lek
Name: Levi Fitze
Picture title: Morning lek
Category: Yought 10-17 years
Nationality: Switzerland
Technical information
Camera: Sony a7rIV 
Lens: Sony alpha GM 16-35mm f/2.8 
EXIF: ISO 320, f22, 1/100sec
Accessories: Tripod from Swarovski, iPhone SE with Imaging Edge Mobile App
Levi says:
I've spent a lot of time with the Black Grouses this spring. After photographing them several times with my telelens, I decided to try something new. 
In the afternoon I made my way once again to the lekking area of these impressive birds. After an hour of hiking, I had reached my destination. This time, next to my telephoto- a wide angle lens was stowed in my backpack. 
That evening I was the only person in this area. From far away I could hear the cows on an alp, for the rest it was the indescribable silence of the mountains. After a warm dinner on the gas stove and a cold night in the sleeping bag, the alarm clock rang at four in the morning. I crept to my tripod, which I had already mounted the day before, and brought the camera into position.
Then I hid under a camouflage net and waited and waited… It was freezing cold and I made sure that the connection from my camera to the iPhone would not break. After around 30 minutes I was suddenly surrounded by shadows and the beautiful sound of lekking Black Grouses broke the silence.
When I saw a male right in front of my camera, I realized that my plan might actually work.
It got lighter and lighter. I had already taken the first pictures. Then the sun rose, exactly where I had hoped it would be. Again a Black Grouse came; now everything was perfect. I hit the release button and hopped I would get the shot…
I've to say a big thanks to my mates Merlin and Ruben who showed me this lekking place, after I found already a few where a shot like this wasn't possible.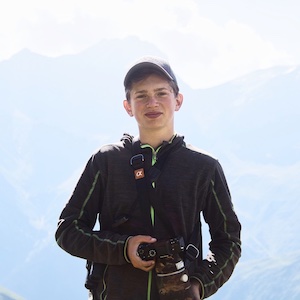 About Levi:
Switzerland
I'm Levi Fitze from Switzerland. My passion for nature, especially for birds started when I was ten years old. On an excursion with a friend we observed honey buzzards on their migration. Since this moment my fascination for birds is growing every day. After some years I started with photography. For around two years now I spend as much time as possible out with my camera searching for new subjects.
I started an apprenticeship in a photo studio this summer. But my work there isn't focused on wildlife photography, so I try to go out as often as possible in the weekends.
Website: www.levifitze.ch